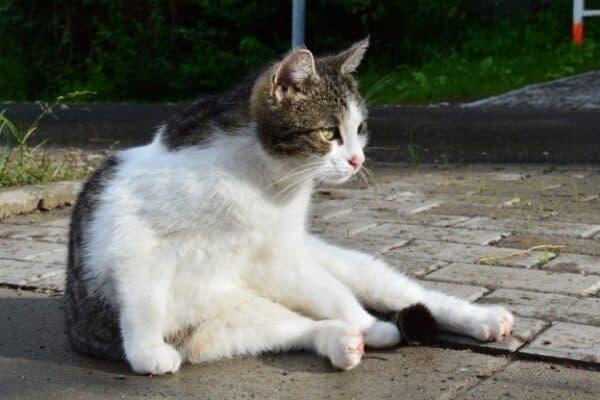 The Weruva Biggest Kitty Loser Contest
Time travel. The birth of Weruva. The invention of the Biggest Kitty Loser contest in 2007 and the thousands of people who took the challenge on my Sirius radio show CAT CHAT, and found their kitty cats transformed, just by stopping feeding them dry cat food (which I called "kitty crack"). They switched to canned food to join the Weruva Biggest Kitty Loser contest and everybody who participated wound up getting a case of Weruva food! The biggest bonus was that they all reported, within weeks, that their cats began to slim down, get shinier, become more active, shed less, become more playful, act more affectionate — and possibly even get off insulin if they had recently become diabetic (since diabetes in cats is caused by the obesity created by feeding carb-heavy foods). The list of happy changes in listeners' cats went on and on, beyond my wildest imagination. It became clear that cats were doing worse on "kitty crack" than any of us realized — until they were respected as obligate carnivores and got a mostly meat diet.
Were you there listening in 2007 when I started my live, call-in show CAT CHAT on the Martha Stewart channel of Sirius (before it merged with XM)? For those of you who have been following me "forever" — or at least since my book The Cat Bible: Everything Your Cat Expects You to Know was published, and I launched the radio show, which had a glorious 7 year run until the channel was canceled — do you remember the contest?
It came about because I discovered a delightful New York City couple, David and Stacie Forman, who had created their own little company to make canned cat food. They gave the company the improbable name of Weruva, named after their three rescued kitties: WEbster, RUdy and VAnessa. The Formans called into the radio show on one of the very first Wednesday nights (Live! At 8 PM East! 5 PM West! Remember?!) and I invited them up to the studio to chat with me in person, on air. They explained how they were able to make canned cat food in a human food facility because that was their family's business. There was no pet food company at the time using a human food facility — meaning they necessarily had to use ingredients good enough for people to eat.
Weruva instantly became my favorite cat food, because in addition to how/where/what the food was made, the Formans had heard my explanation on the radio that cats are obligate carnivores and cannot process carbohydrates (which is the basis for all kibble) and they vowed to never make dry cat food. Even though kibble is where the greatest profit lies for a pet food company. David Forman became a passionate believer in feeding the most hydrating and high quality meats and fish to the cats of the world. He never wavered from that vision, which is commendable in a changing world where smaller pet food companies wind up allowing venture capital investors to dictate their practices, and then the company gets sold to a larger company, which means giving up control and standards.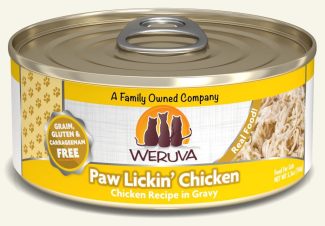 It's 11 years later. David and Stacie have zoomed forward from their simple beginnings — when they literally began by knocking on the doors of small specialty pet food stores to ask whether they would be willing to put some Weruva on their shelves. The food flew off the shelves — with its appealing names and delicious looking and smelling ingredients, like the ever-popular Paw Lickin' Chicken, which to this day remains true to being simply shredded chicken breast. And they have never looked back, expanding the cat food styles (minced, shreds, pate, flakes, minced, soups stews) in cans and pouches — all grain, gluten, and carrageenan free. I want to salute Weruva for remaining a family owned and run company, dedicated to cat wellness, while expanding into a powerhouse favorite of cat owners and their finicky felines.
And you can transform your kitty the same way today: switch to canned food and watch your kitty cat blossom. I your cat weighs more than 10 lbs. (which is the appropriate weight for an average house cat) you can create your own Biggest Kitty Loser contest — with or without your cat-loving friends to join you. Give away your dry cat food to a feral cat group (which has to feed dry food) and switch your cat to wet food. Please try any of the Weruva foods, especially if your pussy cat doesn't easily and greedily accept unfamiliar canned food, even though it is better for him. Paw Lickin' Chicken should change his mind — and you'll be supporting the company that has meant so much to me — as a devoted sponsor of my NPR radio show DOG TALK (and Kitties, Too!) as well as the NY Cat FIlm Festival and the NY Dog Film Festival.
—Tracie Hotchner
(Have a comment? Share it on Facebook.)
Weruva is a sponsor on Radio Pet Lady Network, by our invitation.
photo credit: Tobi NDH Miezi via photopin (license)