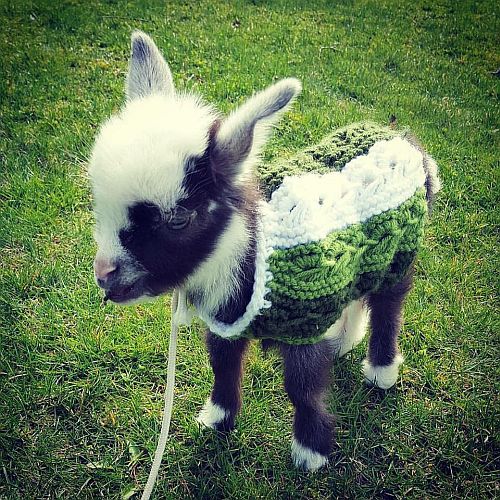 I am really a dog and cat person, right? I wrote The Dog Bible: Everything Your Dog Wants You to Know, and The Cat Bible: Everything Your Cat Expects You to Know. And while I had two pet sheep as a child (Eloise and Baa-Baa, who had a black face), I never had any plans to write The Goat Bible: Everything Your Goat Wants to Eat. But now I have met Penelope the Goat — looking fuzzy as a rabbit in the little sweater knitted for her by a Lollypop Farm volunteer — and my life has changed! I'm head over heels in love! And I'm not alone — when her picture was posted online 2 million people fell in love with her, too!
You can see for yourself what I'm talking about — and here is Penelope's story: a few months back, Lollypop Farm (Humane Society of Greater Rochester) in New York was called out to help rescue some animals in a cruelty case. They agreed to take several goats they knew they could adopt out. But lo and behold, they got more than they bargained for because three of those goats were "with child." However, once born, the boy baby goats were very rude and pushy with the girl baby goat, Miss Penelope, and shoved her out of the way at "mealtimes."
To make sure she got enough to eat, Penelope had to be bottle fed by Joanna, the Lollypop Farm manager, who became her second Mama. Penelope became super-friendly with people (even more than with her own kind) and Lollypop Farm decided they would keep her as their Goat Ambassador to promote other adoptions. They're also working on having her become a therapy goat, who will go visiting in the community wherever she can spread good cheer.
I learned about her because I am bringing the Dog Film Festival to Rochester this summer — on Sunday July 17th at The Little Theater, with 50% of every ticket benefiting Lollypop Farm. I'll get to meet Miss Penelope and many other farm and household adoptable animals when I am there. And I hope to meet some of you, too!
—Tracie Hotchner
(Have a comment? Share it on Facebook.)