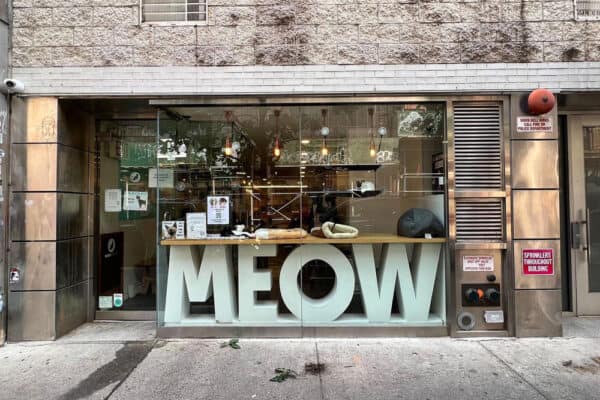 For the first time ever, we're throwing a cats-inclusive party on Friday October 20th to celebrate the 6th Annual NY Cat Film Festival on Saturday October 21st (Noon at the Village East theater on 2nd Avenue and 12th Street). The party will be from 5 to 7 PM at the Meow Parlour, NYC's first cat cafe, where city people and tourists can hang out with the adoptable cats, all of whom live there. The whole point is for cat lovers to get some feline cuddle time while supporting the kitties waiting for their Furever Homes.
The Meow Party is super exclusive – only a very few people can take advantage of this special kitty event – just 12 people at 5 PM and 12 more at 6 PM. BUY A TICKET FOR 5 PM HERE, and 6 PM HERE, but jump on it because tickets are already being scooped up..Thanks to Dr. Elsey's 100% of every ticket goes directly to the non-profit Meow Parlour Cats.
If you love pussycats and want to have a unique feline experience, here's what to expect:
I will be there in person to greet those lucky enough to get a ticket, which gives them 50 minutes to hang out in the company of the charming adoptable cats and fellow cat enthusiasts. I can't wait to meet you and answer any cat question you might have – just as I do on my show CAT CHAT and in my book THE CAT BIBLE .You will get a beverage and pastry from the cafe that is part of the Meow Parlour, and you'll go home with a Meow Parlour gift bag ($60 value) with the Grumpy Cat 2024 wall calendar, a copy of "Oh. It's You: Love Poems by Cats," a DoyenWorld catnip toy, samples of Dr. Elseys' CleanProtein food and a $20 Dr Elsey's litter coupon. You'll also get a VIP ticket ($18 value) for the 6th Annual NY Cat Film Festival the following day, October 21, 12 Noon at the Village East Theater.
The party is a celebration of the six wonderful years since Dr. Elsey personally gave the founding money for the NY Cat FIlm Festival and has kept it alive and well as our sole sponsor all these years, through the down time of Covid and now the challenge of getting people back into movie theaters! Dr. Elsey's is also a long time supporter of the Meow Parlour with the Power of Purr-suasion adoption campaign, so throwing the Meow Party there and having it be a fund-rasier for them is a perfect fit.
Meow Parlour Cats will also receive 10% of all tickets sold for the NY Cat Film Festival on Saturday October 21st. CLICK HERE to buy your movie tickets! Speaking of cat films, our most prolific director, Kim Best – who won the Visionary Award last year for having had her films in every year of the Festival – was the first person to buy a 5 PM Meow Party ticket, to celebrate having TWO films in this year's festival line up!