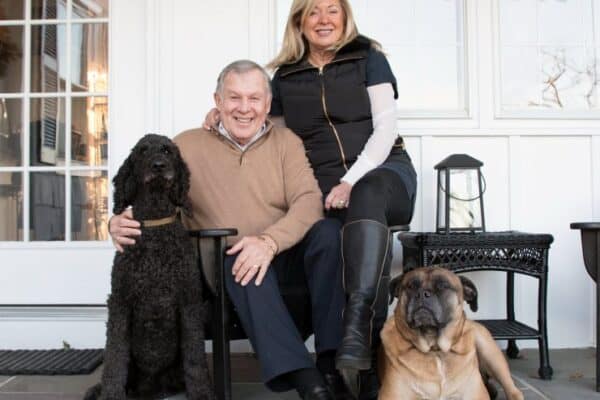 Welcoming Earth Animal to My World
For many many years, I drove by the small Earth Animal store in Westport, Connecticut, which is where I grew up — and where my father and Paul Newman created Newman's Own — and where my father (at the astounding old age of 102!) still lives 65 years later. I wondered then how such an unusual store — specializing in healthy animal products (whoever heard of such a thing?!) could stay in business, in a world dominated by Big Box, Big Brands, Big Bucks, which are the engines in every industry. Over the years I saw the little store continue to be in business, thinking that what must keep them going had to be the educated, affluent, enlightened people of Fairfield County, that your 'average' pet owner wouldn't embrace this philosophy. These were practically the Dark Ages, when there were still Gaines Burgers on the supermarket shelf — remember that toxic red concoction made to look like hamburger?) I regarded the Goldsteins as outliers, disproving commonly held ideas about pet health and wellness. But I was wrong and they were visionaries: everybody wants organic, healthy, non-toxic, pure ways to nurture their pets, once they learn the difference.
Healthy, Organic Products
I knew that Dr. Bob Goldstein and his wife Susan owned the store and built the business together, that he had been a University of Pennsylvania-trained veterinarian who sold his veterinary practice so they could devote themselves to their store and its mission of natural health and wellness. Many moons ago now, I was pleased to learn that Newman's Own Organics had turned to Earth Animal to formulate the revolutionary idea of "organic dog food" for Nell Newman's offshoot of the company in California, where everything under the label was organic. That was another idea that seemed unsustainable at the time — "Organic pretzels, how ridiculous!" — but they sold by the ton! Newman's Own Organics became hugely successful and influential in how people fed themselves and their animals. And Earth Animal's Dr. Bob was right there as the local guru of healthy organic products to lead the way.
From the beginning, I was as surprised as anyone else at the idea of stocking a store full of healthy products, which was a revolutionary idea then, but now in the 21st-century, companies are coming around to this concept as if it's brand new. Decades ago when I researched and wrote The Dog Bible I couldn't imagine there would even be enough products to fill a store, even a small one! — with their discerning requirements. As I joined the pet industry myself, I discovered that the Goldsteins went a step further and set out to create their own branded items to fill the need for healthy and organic products before the pet industry as a whole was even thinking that way.
CBD Oil
I am a big fan of CBD oil and its healing, calming properties, but I have been cautious and wary of what companies and products to recommend and use, it's such a wild west out there in the CBD arena. When I saw the Zen-pen and Zen-tabs that Earth Animal created — for CBD to work right away on a dog or cat based on its weight, by rubbing the CBD gel into the ear flap so it goes right into the pet's bloodstream — I was intrigued. CBD oil tastes terrible so that was a big impediment to oral products, the potency and concentration were a possible issue and the correct dose was tricky, too. With CBD oil being so costly, I didn't want to recommend products that raised these inherent questions. And then I found the Zen-pens! There were sample Zen-pens being given away at a pet conference and on the last day I took a few home to give to friends to use on their pets as guinea pigs (well, mostly dogs and cats!) They tried it on anxious dogs with separation anxiety, car anxiety, and joint pain and they all saw immediate improvement and results. I was blown away.
I had to ask the Goldsteins to join my world so I can help them get the word out about how to change the way we care for our pets. I'm honored and delighted to welcome Earth Animal as a sponsor of my Radio Pet Lady Network and to have the wonderful Dr. Bob and Susan continue to inspire and educate us to do the best we can by our pets.
—Tracie Hotchner
(Have a comment? Share it on Facebook.)
Earth Animal is a sponsor on Radio Pet Lady Network, by our invitation.