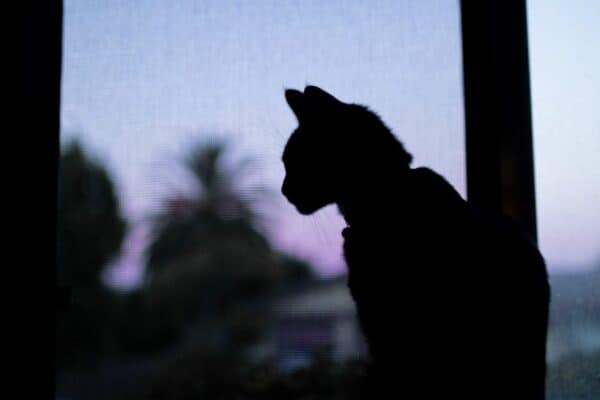 Have You Planned for Your Pets After You're Gone?
I was recently contacted by Freyda, a 78-year-old single lady in Queens, New York, who is worried about what will happen to her pussycat when she is gone. Freyda is in good health, but it's inevitable that her all-black kitty Maisie, who is only 6 years old and in good health will outlive her. Freyda certainly didn't want her to wind up in the animal shelter, especially because black cats are the least likely to get adopted.
Freyda has no friends or relatives she can ask to look after her cat, and she couldn't figure out a solution to pre-planning for her cat's eventual future without her.
I invited Freyda on this episode of Cat Chat® brought to you by Dr. Elsey's so we could discuss her dilemma, which I think more people should think about. As you will hear, I empathize with the problem because I redid my own will several times when I was widowed and had two large energetic dogs I could not imagine fitting in easily anywhere — my own Maisie, and Wanda Weimaraner, both still with me.
I wanted to give Freyda (and others who might be thinking this way) peace of mind with a few suggestions about possible adoption alternatives, some of which I was already researching for her—and suggested ways anybody can pursue their own options.
One thought I want to impress upon everyone is that no friend or family member wants your pet — not unless they have explicitly, sincerely asked to become your pet's guardian in the event of your inability to care for them in the future. We each adore our dogs and cats, but even if people close to us seem to share that love (or are good at faking it!?) that does not mean they want that pet to live with them!
Three marvelous things came out of this interview
1) On Freyda's behalf, before I spoke to her, I had contacted Risa Simon, who founded Leashes End sanctuary for aging dogs and cats in Rockville, Maryland. As luck would have it, Risa was just finalizing the paperwork to allow people to be able to implement a Perpetual Care plan for their (25 lbs. or smaller) pet when the person passes away. Freyda wasted not one minute and made the donation to Leashes End that will cover Maisie's costs when Freyda eventually passes away.
2) I had contacted two other sanctuaries for old dogs and cats and now we are all going to have a virtual meeting to discuss how they, too, can put in place perpetual care plans so owners can rest easy as they get older, too, that their pooch or kitty will have a safe haven.
3) I recommended to Freyda that the best thing she could do for Maisie's health would be to add omega-3 fish oil to her daily diet and switch her over to Weruva, my favorite cat food, which has been a sponsor of my NPR radio show DOG TALK (and Kitties, Too!) forever and ever. I explained that their all-natural, human-grade ingredients come in a wide variety of recipes and protein sources, all made in a human food facility, unlike the frozen-delivered food she was feeding—which was very costly and had no variety, only chicken (with carrots, which I think don't belong in a cat's dish.)
Freyda was very happy for the suggestion since she had not liked giving the same exact food every day. Now Maisie's menu is a medley of Cats in the Kitchen pouches and Weruva in cans so that she barely needs to repeat the same meal in months.
A very happy conclusion: Freyda has peace of mind, and Maisie eats like a queen!
—Tracie Hotchner
(Have a comment? Share it on Facebook.)
Weruva is a sponsor on Radio Pet Lady Network, by our invitation.