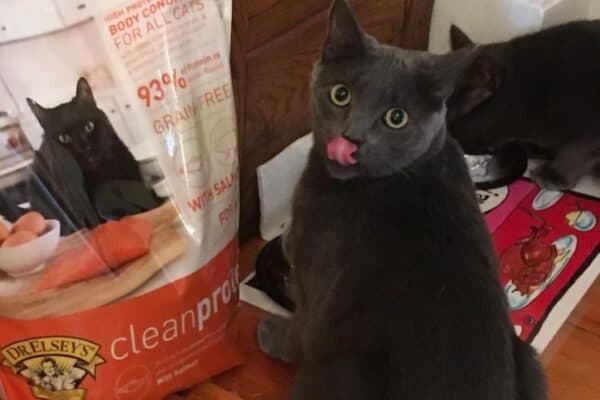 Dr. Elsey's Precious Cat is Bringing Joy to Cat Lovers & Shelters Nationwide
I was filled with hopeful excitement last year when Dr. Elsey's Precious Cat — my "precious" devoted sponsor of DOG TALK (and Kitties, Too!) (my NPR radio show) — encouraged me to create a cat film festival to give kitty cats their due on the big screen. At first I wasn't sure I would be able to find enough films to justify creating a whole new traveling film festival with cats as the main focus. But Gina Zaro at Precious Cat had seen the foreign documentary "Kedi" and had the confidence in me to be able to do for felines what I had already been doing for canines with the NY Dog FIlm Festival. Precious Cat provided the financing to explore the possibility — miraculously, a treasure trove of cat-centric films came flowing in. I was able to put together two full programs of short films celebrating the fascinating felines who share our world and voila! The philanthropic NY Cat FIlm Festival was born. We have traveled with it to over 30 cities around America, with a portion of every ticket benefiting a local cat shelter or rescue, along with our National Beneficiary, the WINN Foundation.
As the Founding Sponsor of the NY Cat Film Festival, Dr. Elsey's Precious Cat has supported the Festival's mission of celebrating the cats in our world —- and the cat welfare groups that save and protect them. At every theater the rescue group's devoted volunteers have a table to reach out to their community to let them know about the cats who need their help. And then Dr. Elsey's wanted to go an extra step and share some of their carefully formulated CleanProtein dry food with our beneficiary shelters by making a generous donation of pallets the food to them — and sometimes to neighboring groups they recommended. The cat-appropriate proteins in this food mean that shelter cats were going to get the highest quality protein for their health, and that TNR cats looked after by rescue groups like S.A.F.E.R in New Hampshire, could feed their managed colonies of community cats with the highest level of nutrition in dry form.

Here's a list of the lucky shelters whose volunteers felt the well-deserved support and kudos from being part of the NY Cat Film Festival — and also received the generosity of pallets of CleanProtein food.
The Cat Connection in Waltham, MA, Sweet Faces Cat & Kitten Rescue in Nashville, TN, Baypath HS in Hopkinton, MA, Max Fund Animal Adoption Center in Denver, CO, Montgomery HS in Montgomery, AL, Lincoln County HS in Newport, OR, Spartanburg HS in Spartanburg, SC, Seacoast Area Feline Education & Rescue in Portsmouth, NH, Monroe County Humane Association in Bloomington, IN, Main Line Animal Rescue in Bryn Mawr, PA, Yakima Valley Pet Rescue in Yakima, WA, Animal Hope Adoptions in Fort Worth, TX, Heartland HS in Corvallis, OR, Cat Town in Oakland, CA, Whatcom HS in Bellingham, WA, Eleventh Hour Rescue in Morristown, NJ, Idaho HS in Boise, ID, Mayor's Alliance for NYC's Animals, NYC, Southampton Animal Shelter Foundation in Patchogue, NY, Merrimack River Feline Rescue Society in Haverhill, MA, Pet Pantry in Lancaster, PA, Fix Our Ferals in San Francisco, CA.
If I have forgotten anybody, apologies — the list went on and on and Gina and I corresponded numerous times with every receiving shelter to coordinate with volunteers at every rescue so they could be there to meet the huge trucks that left Precious Cat headquarters in Colorado, filled up with bags of CleanProtein food to make cross-country deliveries of delicious, nutritious food to the kitty cats.
Here's a lovely note sent to the Friends of Oakland Animal Services which was one of the cat rescues present at the Rialto theater in Berkeley recently:
I just wanted to tell you what a wonderful idea it was to bring the NY Cat Film Festival to the West Coast as a special fund-raising event. I attended the "Little Works of Art" program and enjoyed each of the short films immensely. Great variety of perspectives on cats in general. I hope that FOAS will be able to continue with this fundraiser in the years to come. I would make it a point to show up to see more films about cats, but also to take in a NY Dog Film Festival program as well. Continued success with the life-saving work you are doing.
Thanks to Dr. Elsey's Precious Cat, audiences of cat-lovers across the nation are enjoying the Festival films, making a connection to their local rescue groups, many of which have been able to offer the very best food to their kitty cats with the donation of CleanProtein.
—Tracie Hotchner
(Have a comment? Share it on Facebook.)
Dr. Elsey's is a sponsor on Radio Pet Lady Network, by our invitation.
Stock photo credit here