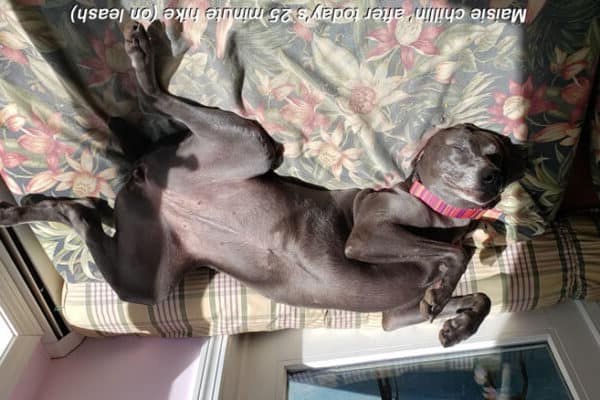 Breezing (relatively speaking) Through the Nightmare of an ACL Repair
My majestically athletic, exuberant Weimaraner Maisie made it all the way to age six before she tore her ACL ligament in May. I had been living in absolute dread of it tearing for months before it happened. I was doing everything I could to protect her sore knee — weekly acupuncture, bi-monthly chiropractic adjustments, TRP-Tri-COX joint supplement, Platinum Performance supplement, cold laser, and ElleVet Sciences CBD oil.
But she was an unstoppable force of nature when she revved her engines and — as an expression of pure joy at being alive and pleasure in the power and speed of her own body — she would take off in big, looping figure-of-eight circles at 25 miles an hour. She used her favorite humans as the center point of the circle, just barely grazing your leg as she whizzed past and changed direction to the next circle. (By the way, Healthy Paws pet insurance paid 90% of nearly every single one of those treatment modalities, including the MRI of her spine which was done early and x-rays of her leg. We're talking close to $9,000 before her ACl even tore). [PLEASE get pet insurance for your pets, I beg you once again.]
Inevitably, her knee defied my efforts and two months ago, as I was gardening, she took off on her high-speed circles and her knee gave way. Suddenly, she had only three usable legs.
I was horrified by the prospect of the ACL surgical repair, which i have been through with more dogs than I care to count. The bone is cut, a lot of metal hardware is screwed into it, and the dog has a swollen leg too painful to step on for weeks and weeks, needing support just to stand and go out and relieve himself. With almost total house arrest for two months, except for bathroom breaks, eventually the leg heals and the dog is left with an "okay" knee joint after a total of 4 months recuperation. In 50% of cases, the dog's other ACL tears, but I've always wondered if it was because of the additional stress and strain on it of supporting all the weigh for so many months?
However, happiest of happy news: we had a different and much, much better outcome this time. Maisie began putting weight on that leg within 10 days, "toe-touching." Within two weeks she was carefully walking on it. I had to visit Dr. Bo Bergman at West Mountain Vet Hospital because part of the incision wasn't healing, and he was really surprised she was putting any weight on the leg at all. On an extendable leash I walked her increasing amounts each day because she could, and wanted to — which is not common practice, as vets usually insist on pretty much crating/caging the patient for nearly the full 8 weeks post-surgery. I decided to let common sense by my guide and let her tell me how much she could comfortably do, while keeping her muscles strong.
At four weeks post-surgery I stopped the pain medication she had also been getting. She kept on walking and trotting on the leash and was not lame or limping at all. I believe this remarkable recovery had to be due to the ElleVet CBD oil. What else was different from the other five ACL surgeries I've lived through with previous dogs? The surgery has not changed in decades — although each year I have kept interviewing Dr. Rob Hart at the Animal Medical Center in New York City HERE, and HERE, hoping there would be a less invasive and easier-to-recover-from repair of the ACL, but it hasn't happened.
I am giving credit for Maisie's brilliant recovery to the large dose of CBD oil from ElleVet Sciences she's gotten at both meals from the moment she tore the knee. I'd had her on the maintenance dose of a few drops per meal when her knee was just sore, but I learned from ElleVet Sciences (which is a sponsor of DOG TALK) that there was a new clinical trial studying pain management post-ACL surgery in dogs. I learned what that dose was and immediately put Maisie on it. My vet, who has just begun trying that CBD oil on patients, said they hoped Maisie would be their "poster dog" to convince themselves — not just owners — of how useful it could be to their senior arthritic or post-surgical dogs. At the 8-week post-op x-ray visit yesterday, my vet, Linda Morris at West Mountain Animal Hospital, was amazed at how much Maisie was using all four of her legs. "So she's The Dog you can use as proof that CBD works!" I said.
I sure don't wish this problem on any dog, but ACL tears are so common that I really hope if it happens to you that you will ask your vet to get you this CBD oil made and measured just for pets.
We'll be off and running before long now!
—Tracie Hotchner
(Have a comment? Share it on Facebook.)
ElleVet Sciences is a sponsor on Radio Pet Lady Network, by our invitation.