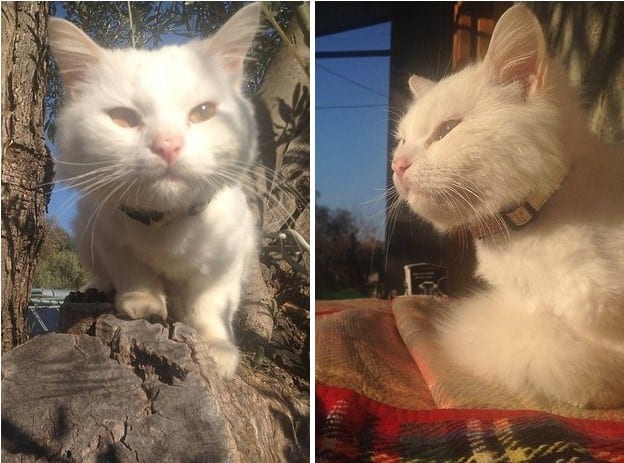 A Kitty Refugee with a Lesson for All of Us
With all the desperately sad stories we read about the plight of refugees fleeing war and persecution — and the photos of those who perish trying to get to a better life — here is a heartwarming tale of a happy ending for a lost kitty, who relied on the kindness of many strangers of different nationalities to rescue him and eventually reunite him with the family who loved their pet so much they didn't want to leave him behind in their homeland.
The story begins last November, when a family arrived on the Greek island of Lesbos, fleeing violence in Iraq, and had their beautiful white Turkish Van cat Kunkush in a basket on their rubber boat. However, in the confusion on landing the family was separated from the cat and even with the attempts of international volunteers at the scene, he couldn't be located and the family had to move on to a refugee camp.
Some local fisherman found him but the cat was in poor shape and local community cats were making it impossible for him to eat food put out for them. Kind villagers fed him separately and got him to a local vet, who found him healthy and vaccinated him but knew nothing about him except that he had arrived from Mosul, Iraq.
Ashley Anderson, an American volunteer helping refugees in Lesbos, organized an online appeal and poster campaign with her friends Amy Shrodes and Michelle Nhin to find the cats family. They were contacted by a foster mother in Berlin, who said she would take care of him for a year and if his family was not found she would adopt him permanently. Ms. Shrodes had to pay $1,500 for his travel to Germany and other costs, which were covered by a GoFundMe page on which 68 people contributed more than the needed amount.
As Ms. Nhin wrote on the Facebook page for the cat (who was now called Dias, or "Zeus" in Greek), "In a small way his journey represents the plight of all who are seeking a better life. We need each other. If it wasn't for people taking notice of his vulnerable state and taking him in under their wings, he'd likely be fighting for food and struggling to thrive. By offering him a place to stay and good food, he's now able to sit by the fire and process what all he's been through. He's sleeping a lot and is very talkative when he's awake. He didn't go unnoticed, and will not be forgotten about."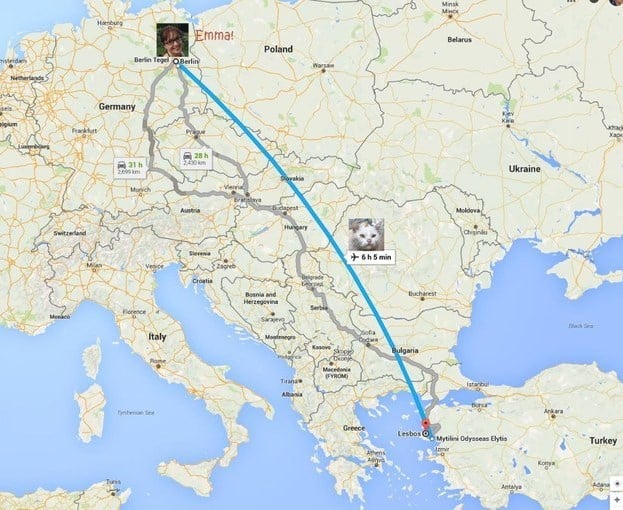 Then recently, months after the kitty's rescue and relocation to Germany, Norway could be added to the list of countries contrib­uting to his his reunifica­tion! Someone from Norway contacted the Facebook page to say that the cat's family had recently moved in next door to them and had seen the story of their cat's remarkable rescue. They said their cat's true name was Kunkush. When they were initially reunited on Skype, the cat went behind the computer to look for the family he was seeing on Skype, who were speaking to him in his native language! Within days, Kunkush was traveling from Berlin and after a journey across continents and the sea, was back in the arms of his family.
I heartily salute all those volunteers and kind-hearted people — if you count, there had been many nationalities and at least 100 people — who went out of their way to lend a hand to the refugee cat. I do hope that in these challenging times for people across the globe trying to survive that we can appreciate the importance of showing compassion and generosity to those in need.
–Tracie Hotchner
(Have a comment? Share it on Facebook.)